Glen Eden Wool Carpets: A world of choices
Our Sales Service area: The Panhandle, North, Central, and the West Coast of Florida.
ABOUT GLEN EDEN WOOL CARPETS:
GLEN EDEN WOOL CARPETS are made in America of 100% New Zealand wool in today's most stylish colors and designs. Carpet is stocked in our factory in Chattanooga, TN
Custom sized rugs may also be made of our carpets featuring wool yarn surging matched to the carpet color.
THE WHITE COLLECTION: With existing and new designs in 100% New Zealand Wool
GLEN EDEN WOOL CARPETS IN STOCK in America in their mill in Chattanooga, TN.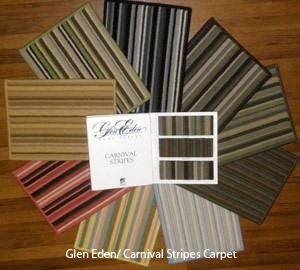 GLEN EDEN OUT OF AFRICA is our 100% New Zealand wool skins collection. These carpets are ever popular featuring a 36" by 36" repeat total skin look.

Glen Eden OUT OF AFRICA

Glen Eden OUT OF AFRICA: Zebra 2

Glen Eden OUT OF AFRICA: ANTELOPE
GLEN EDEN OUT OF AFRICA PATTERNS:

Zebra
SAMPLES AVAILABLE TO DEALERS & DESIGNERS
Glen Eden wool carpet samples are available in 13.5″ by 18″, 27″ by 18″ sets per pattern. Contact us for pricing for each product, which is based upon number of colors per design.
POM Set: A full set of 136 poms is available for $85.00.
GLEN EDEN HALO NYLON: "It looks like silk."
Departing from the 100% New Zealand wool program, HALO NYLON carpets have been introduced. Monaco is a cut and loop stripe, and St. Moritz is a lush cut pile. Halo Nylon has been added as a silk look accent design to several of our wool in stock carpets. As an example, Bonaire and Cozumel are shown. Halo Nylon is also featured in the designs of the wool Visions' custom "Newary Collection."
VISIONS: CUSTOM CYP CARPET & RUGS:
VISIONS, CUSTOM CYP CARPET & RUGS are created by the Custom Yarn Placement machine, which tufts to your design specifications. You may select up to 6 colors in tip shear, loop, or cut pile combination, which give the look of as many as 12 colors.
CYP CARPET COLLECTION, & CUSTOM AREA RUG COLLECTION are rug design collections from which to choose your rug or broadloom carpet design.
THE NEW VISIONS COLLECTION: WATERCOLORS.

Glen Eden Watercolors

Glen Eden Watercolors Wolf

Glen Eden Watercolors Samples
THE COLORS: May be selected from our 136 Fashion Color Poms. The yarn is 100% New Zealand wool. If you have a unique color which in not in our collection, we can match it to your color samples with an up charge.
SIZE or SHAPE: We will make any size, shape, or shape to your template. Glen Eden's artists will provide you with a color rendering for a small charge for your designs using our pom colors.
CUSTOM DESIGNS to your specifications are our specialty. We recommend that you order an 18" by 18" Strike off sample for rugs, and 1 ft. by 1 ft. sample for custom carpets so that your client to see and approve prior to production of your custom rug.
YARN WEIGHT: Custom rugs and Broadloom are available in a Residential weight: 55 oz., and a Heavy Residential weight of 65 oz. For Commercial weight, call for special pricing.
CUSHION: RUG CUSHION may be cut to fit. One inch smaller than your rug.
UNDER RESIDENTIAL CUSHION: (6 ft. width), & UNDER CONTRACT CUSHION: (6 ft. and 12 ft. width. Order to be shipped with your carpet or Rug.
USE RUG DESIGNER ON GLEN EDEN'S WEB SITE TO RECOLOR AND PRINT ALL DESIGNS: VISIONS COLLECTION: WATERCOLOR COLLECTION.